Welcome to the BEACONs Project
The BEACONs Project was founded at the University of Alberta in recognition for a new approach to conservation planning in North America's boreal region. We are building a credible scientific framework for comprehensive conservation planning through the development and application of leading-edge conservation science that includes consideration of both protected areas and lands managed for other values. The premise of our research is that the ultimate goal of conservation is to identify human activities that are compatible with the maintenance of biological diversity and integrity of ecological systems. The conceptual scientific framework guiding our research is the Conservation Matrix Model.
New Research to Support Pro-Active Conservation Planning: Ecological Benchmarks for the Northwest Boreal Region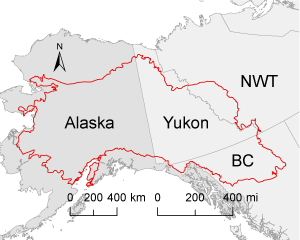 In February 2018, we released a suite of products to support pro-active conservation planning and the identification of benchmark networks for the northwest boreal region of North America. Within an adaptive management framework, ecological benchmarks serve as reference areas for detecting and understanding the influence of human activity on ecological systems.

What's New
New Paper from BEACONs! "Comparing Global and Regional Maps of Intactness in the Boreal Region of North America: Implications for Conservation Planning in One of the World's Remaining Wilderness Areas" Frontiers in Forests and Global Change

| Read More »

New Paper from BEACONs! "Conservation planning integrating natural disturbances: Estimating minimum reserve sizes for an insect disturbance in the boreal forest of eastern Canada" Plos One

| Read More »